Understanding the Prefab Building Construction Process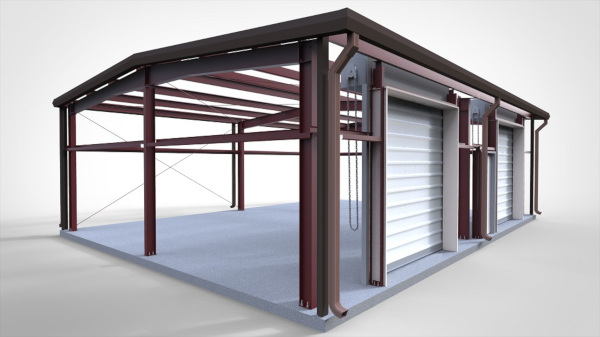 Understanding the Prefab Building Construction Process
Understanding the prefab building construction process is crucial to getting the best bang for your buck. A breakdown of the steel construction process can help inform you why prefab buildings are an excellent choice. Consider these steps of the process:
Step 1: Contact Prefab Building Supplier
The first step in the prefab building process is to contact a reputable prefab building company. Depending on your needs you have a few options. You can purchase the building kit alone or you can contact a prefab building construction company. The most cost efficient method is to contact a turnkey metal building company that provides prefab building kits. You can save money by dealing with only one company. This will make the construction process less stressful.
Step 2: Drawings and Design
For a majority of prefab buildings, professional permit drawings are generally required by your local governing authorities. This is not always the case; however, in most cases it is, which is why the drawings and design phase is so important to display your building structure. This phase is also critical because it allows you to design the perfect building for your needs. Most prefab building distributors have some sort of image to show of what your building may look like. Questar Construction takes the design process to the next level and offers complimentary 3d designs. Check out our portfolio of designs - Prefab Building Kits.
Once the drawings and design phase is complete, your building will be sent to fabrication. Based on the engineering specifications of your metal building, your building will be fabricated in accordance with the IBC (International Building Code) for your geographic region.  Depending on the complexity of your steel building, manufacturing and shipping usually takes between 6-8 weeks. If you are considering one of our Houston Crane Buildings, it could take a little longer. For an additional cost, a smaller standard prefab building can be delivered in as low as 3 weeks.
This step is the most critical in the prefab building construction process. If your project requires permitting by a governing authority, your site may need to be designed by a civil engineer. Civil engineers are responsible for conducting, soils reports, boundary and topographic surveys, storm and drainage requirements, and more. The pad prep is crucial as well.  The proper base mixture is important in the pad creation, the correct mixture is generally known as select fill. Civil engineers assist in the pad prep requirements. Upon pad preparation, installation of the concrete foundation framing and the building's anchor bolts can begin. It is crucial that anchor bolts are precise. (It is beneficial to use a turnkey prefab building company to provide the slab, building and erection. This allows for a professional to place the anchor bolts in the correct locations.)
Upon building delivery, erection is ready to begin; building framing is the first step. Steel building kits come with rigid frames which are durable and long-lasting. The Metal Building framing process consists of erecting the building I-beams and support columns in the correct locations, set by anchor bolts.  In addition, this process includes the installation of rafters, wall girts, roof purlins, eve struts, proper bracing, base angles and more.
Upon framing completion, building sheeting can begin. This process includes the installation of wall panels, roof panels, and if included, insulation installation. There is a large selection of wall panels and roof panels from which to choose; however, PBR panels are the most commonly used. PBR panels are panel where screws can be seen. Depending on the metal building colors chosen, this is where you will see them come to life. It is imperative that your metal building erector uses weather stripping during the sheeting installation to protect from precipitation issues. In addition to the metal building sheeting, this step also includes the installation of building eve trim, (gutters if applicable), corner trim, closure strips for eve and/or base, and more.
Once your building is framed and sheeted, the final step in the building process is the installation of metal building accessories. This is where the installation of applicable accessories such as overhead doors (rollup doors), walkthrough doors, windows, vents, exhaust fans, louvers, skylights, wall lights - light translucent panels (LTP) beings. If you are considering one of our commercial steel buildings, then your options are endless.
The prefab building construction process can be overwhelming for unfamiliar builders; moreover, it can be streamline when completed by a turnkey prefab building construction company. Prefab building construction by professionals can outstanding product which can be used for commercial and residential purposes. Popular commercial building kits consist of churches, strip centers, auto shops, plane hangars, storage buildings, metal garages, metal barns, storage sheds, horse barns, business warehouses, boat and RV storages, wedding venues, and more. Popular residential uses consist of barns, shops, barndominiums, Boat and RV storage, and garages to name a few.  With Questar Construction, you can buy with confidence and buy direct.
Ready for a new
Pre-engineered Metal Building?
Questar Construction,
A turnkey Metal Building Company
(936) 321-5747